Please install Revolution Slider plugin.
Joan Marie's Exclusive
Lifestyle Makeover Program

Joan Marie's Exclusive "Lifestyle Makeover" Program is designed to help you strategically map out how to fulfill your most desired needs, goals and wishes. "Lifestyle Makeover" is designed to accelerate your personal evolution and allow you to manifest your deepest desires with incredible mastery. Imagine spending the day with Joan Marie as she utilizes her Intuition to assist you in your key areas of life. This is for the extraordinary individual who wants to create a "Lifestyle Makeover" and truly live it. Do you want to MANIFEST YOUR LIFE? This programs is your answer. There is a personal map designed just for you to follow for the "Lifestyle Makeover Program" that will allow you to get started. I invite you to move up to the next level of your personal development by choosing this program. Clarity is the key to your success" and I promise to give you details create -solutions and help guide and support you.
Through My Lifestyle Makeover Program:
• Many Entrepreneurs have grown their companies to six and seven figures.
• Many have created products, details of their best-selling books, client programs and more!
• CEO's, COO's and Executive's have participated in this Lifestyle Makeover Program to help them heal personally and help their companies.
• Celebrities, Musicians, Artists have utilized their day to create music, help with their artwork and heal their soul to take their craft to the next level.
Each one of us has a blueprint already  mapped out in our own hearts. Through my innate talents and gifts, I can see your weaknesses and all the deep holes that are causing you to faulter. We need to get your SPARK BACK IN YOUR LIFE!
Together we will unveil the blueprint and help you heal the core root of your issues. I will guide you within to see how your old patterns are playing out in your life. You will understand at the deepest level your "why"–
Why you are where you are.
 Why your company has not grown further.
 Why you have personal and/or relationship issues
Why you have health challenges.
For those of you who really want to transform your life and make permanent changes and heal from past experiences or old wounds, I design the time to meet your needs.  You can schedule time with me for a ½ day or full day.  Some people feel that they need my guidance and support for a longer term, so I design a 3 to 6-month program that allows them to have access to me on an on-going basis.  I always return calls within 24 hours or sooner when possible.  When I work with you, I am committed to helping you change and grow first from the inside out – then your transformation comes full circle by you experiencing a wonderful change in your personal and professional life.  Whether you need a lifestyle makeover, a career change or whatever you desire, I am dedicated to helping you. All I ask is that you too be dedicated to your transformation and work full out during our time together.  
Please call the office at (941)-954-9001 to discuss further with Joan Marie.
A Phone Call from Heaven!
Time and time again I hear from others:  "What I would do to have one last conversation with my mom and sister, grandparents, husband, father or brother…If only heaven had a phone."
Imagine having X-RAY Vision and Being Able to See Right 
Through to the Problem and Directly to the Other Side!
Joan Marie Whelan, loves talking with the other side.  Her bright personality, confidence, compassion and great sense of humor can put anyone at ease.   Her uncanny details of literally being in your home and sharing with you what your loved ones are doing since they have passed to the other side are incredible.  She does all of this while on the phone with you!
Joan Marie is an International Medium, who literally has a conversation with the other side.  People are astounded by her ability to share vivid details of the information received directly from your loved ones who have passed on.  "Of course I can states, Joan Marie, it is fun and a joy to be the conduit that can bring you joy, completion and often a sense of great peace." Joan Marie can see, hear and feel the emotions and stories of your loved ones – this is her Gift!  
She is a Medical Intuitive as well and has consulted with thousands of doctors on many cases. Joan Marie can scan your body and share with you the exact age your disease began in your body. She will also share with you the emotions tied into your disease and your life lessons on earth. Doctors from all over the world ask Joan Marie to work with their patients.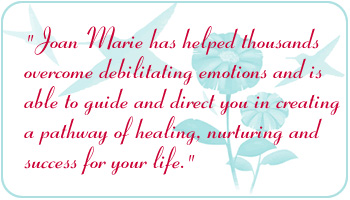 NOTE But you MUST call the office at (941)-954-9001 to schedule your time.
Call now to book an appointment with Joan Marie to hear from loved ones passed over, to know your future's possibilities and to get to the root of all issues so you can heal from whatever is holding you back in this life time. 
Joan Marie can work with you over the phone or in person.  Please call the office for further information at (941)-954-9001.  
Copyright 2014 · All Rights Reserved - JoanMarieWhelan.com