Power Angels ™
Go to our Child Like Creations Facebook page  ( www.facebook.com/litlmessengers)  and LIKE us
On the STORE you will see all of our adorable and useful products which offer amazing insight and inspiration to people of all ages.
Free Angel Meditations Click Here

Too often I have found that people are confined by the boundaries they set for themselves.  Their mind creates limiting patterns and beliefs   that person follows its lead.  I want you to know that no matter what is happening all around you and in your personal life, you absolutely have the ability to call in your Power Angels ™.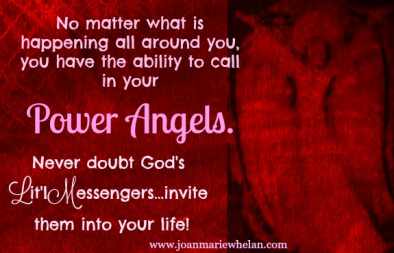 Your Power Angels™ are God's Lit'l Messengers!™  He  has given them to us because He knows that we need support, guidance and encouragement.  There are far more Angels in the Universe created by our Source than we can imagine and they are available moment by moment to us so that we never feel alone.  Angels love to help us but because we have free well, they will never impose themselves upon us without our consent.  That is why it is up to you to call them into your life daily.
Since the beginning of time, there have been stories and sightings about Angels and how they have heralded in the many messages of hope, love, warning and encouragement.  I speak to the Angels frequently during my day seeking advice, help, support and protection.  I believe they are always with me and eager to come to my assistance but it is my responsibility to ask them and be specific about what I am requesting.
Childlike Inspirational Power Angels™ Cards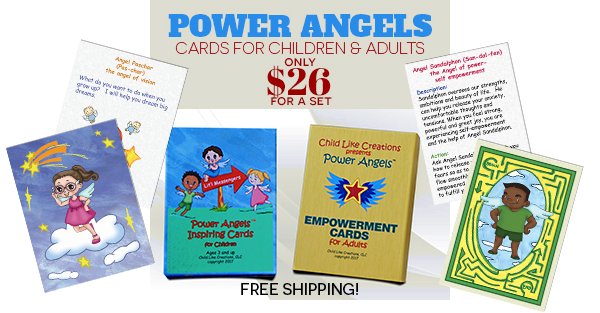 To transform your life in all the ways that make you feel good and at peace with yourself, we encourage you to practice maintaining a positive thought process that will strengthen your overall attitude, behavior and the environment.  If you are having difficulty in staying positive, bring in your Power Angels™ and ask for their help! Our Power Angels are our angel like characters who are ready willing and able to support you in all ways. None of us can achieve all that which we desire alone.  We need a powerful team to keep us motivated, focused on our vision and disciplined.
We are always looking for ways to offer you the right tools to help you walk in the right direction.  We now have our Power Angel Playing cards both in a set for children and a set for adults.  The images are designed to be child-like however their names come out of antiquity.
Purchase today a box of our Adult Power Angel Cards and also a box our Children Power Angel Cards for a child near you.
By picking a card daily to help you feel empowered and inspired you will get a constant reminder that Your Power Angels™ are available to help support, encourage and improve your state of mind.  When you change what you believe you change what you do!   These Power Angels™ have been sent to Earth each with its own expertise and purpose to assist all of us.  Why not take advantage of this?
Introducing our Power Angels ™
I have personally created some products including, but not limited to, meditation downloads that speak to the Power Angels.™    On our website—https://www.joanmariewhelan.com within the top banner, we have available numerous meditations including some by Joan Marie Ambrose, The MOM on 6 Power Angels.™
These Angel meditations were created to guide you on calling in your favorite Power Angel™ or Angels. Each meditation will walk you through an imaginative and helpful journey with the Angels directly by your side.  I promise you that the results will be transformational!
Joan Marie Ambrose has created Power Angels™ books for children and games to encourage their development and personal self-confidence and self-worth.  She has made the Lit'l Messengers!™  our  Power Angels,™ childlike and loveable so that we can easily relate to them.    She also created a loving Power Angels,™ "Huggin Pillow" that will be available on  our web site and on our www.facebook.com/litlmessengers page.  Our huggin pillow is popular to place on your bed, to hug away your fears and to let you know you have the support and protection of the Power Angels ™  whenever you need them.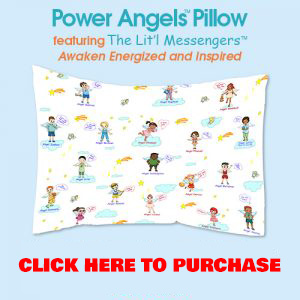 Below is a List of 20 Angels, that we have identified that you can call on during your day.  They are real, available and eager to help you on your life's journey.
Archangel Michael –    The Angel of Protection
Archangel Jophiel –     The Angel of Illumination and Clarity of Vision
Archangel Uriel –          The Angel of Peace and Tranquility
Archangel Chamuel –  The Angel of Love
Archangel Gabriel –     The Angel of Guidance
Archangel Raphael –   The Angel of Healing
Archangel Zadkiel –     The Angel of Practical Assistance and Prayer
Archangel Metatron – The Angel of Thought and Deeds
Angel Amarushaya –    The Angel of Blessing
Angel Sandalphon –     The Angel of Power—Self-Empowerment
Angel Uzziel –                  The Angel of Trust & Belief in Self
Angel Paschar –               The Angel of Vision
Angel Amitel –                 The Angel of Truth
Angel Cerviel –                The Angel of Courage
Angel Stamera –             The Angel of Forgiveness
Angel Onniemme –       The Angel of  Gratitude
Angel Jamaerah –         The Angel of Manifestation
Angel Shekinak –           The Angel who lights the way  so you are not afraid
Angel Phanuel –             The Angel of Hope
Angel Ramaela –            The Angel of Playfulness and Joy
Visit our YouTube page to see all of our Power Angels Videos.
Verses about Angels:
Exodus- 23:20   Behold, I send an angel before you, to keep you in the way and to bring you into the place, which I have prepared.
Psalm 91:11   God will command His angels to protect you wherever you go.
Luke 4:10    For it is written:  He will command His angels concerning you to guard you carefully.
Hebrews 1:14  Are not all angels ministering spirits sent to serve those who will inherit salvation?
Revelations 5:11-12   Then I looked and heard the voice of many angels, numbering thousands upon thousands, and ten thousand times ten thousand. They encircled the throne and the living creatures and the elders. In a loud voice they sang: 'Worthy is the Lamb, who was slain, to receive power and wealth and wisdom and strength and honor and glory and praise.
Angels as being of light transcend every religion, every philosophy and every creed.  Angels have NO religion as we know it.  Their existence precedes every religious system that has ever existed on Earth. –Your Power Angels love being a part of your life!—- St. Thomas Aquinas–
---
Join us in our CrowdFunding efforts to spread the message of the Power Angels to children throughout the world.  It is efforts like this that can create a more positive and dynamic future by infusing our children with encouragement, support and inner guidance.  Better Children Today will create a Better World Tomorrow.  Any size donation is accepted and below you can visit our rewards page by clicking the "Continue reading" link below, to learn more about the rewards offered for certain levels of donations, beginning at only $100 (but any amount you are able to spare will be greatly appreciated.)  There, you can also make your contribution.
Thank You,
J0an Marie Companies
---
Learn about becoming a Power Angels Entrepreneurial Representative.  Helping you make money your way creating positive energy in the world is what this is all about.  Click the "Continue reading" link below for the details.
Thank You,
Joan Marie Companies
Copyright 2014 · All Rights Reserved - JoanMarieWhelan.com