YOU HOLD THE KEY TO UNLOCK THE
DOOR OF YOUR POWER
How long has your mind been holding you captive?
Do you want to be able to read into your business clients, your patients, your partners/children or any situation and be able to see how you can be the solution?
Are you a forever student wanting to know how you can be the Master of your life?
Whether you are seeking true love, financial freedom, a new career or simply desire to enjoy good physical health, you are about to discover the real secret to help you manifest your dreams and desires for your life.
You can tap into your veins of gold so that you can reap the wealth that belongs to you
How is that possible?
How is that possible?
Because when you discover your intuition your priority that DESIRE can be transmuted into gold.
Are you ready to STOP doing things the old way and ready to claim your gold?
You possess a gold mind –It is what I call your sixth sensory wisdom. It has always been a strong desire of mine to show you the "HOW" to improve your life.
I am on a mission to make it possible for everyone whos interested to learn to awaken their inner voice, their soul power by tapping into their Intuitive Power.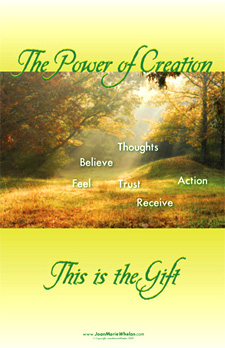 Through my Lecture and Meditation series called: "How to Tap into Your Intuitive Powers" you can learn to re-awaken your intuition at your own pace, fitting into your schedule and in a very affordable way in the quiet of your home. This program consists of a workbook and a 4-part CD that will enable you to:
Bonus Poster included in the package
"I realized that my intuition is being affected by my emotions and my emotions controlled everything I think and did, mind and body. The How to Tap Into Your Intuitive Powers taught me how to resolve my emotions, rather than just submit to them. I am forever appreciative."
"I'm a Joan Marie Success Story"
Your courage in bringing your intuition to me has allowed a very positive shift in the way I feel. I've known how to 'act' confident most of my life. Now my confidence is authentic. The confusion around what I want is gone and I can now focus on and visualize the outcomes I want. It happened in an instance. Incredible.
I wish I knew someone like you 40 years ago. I could have saved a lot of money on EST, Scientology and tons of books and tapes. So far, this week I've only had thoughts of lack a few times. I'm focused on what I want most of the time and it's getting easier and better. My self-hypnosis sessions are now flowing easily and effortlessly. It's amazing how difficult they had been given my education and experience. It's just proof that the past must be cleared before suggestions have any effect. Thanks again. If we ever meet I'm going to give you the biggest hug.
MT
Did you know that you can wake up every day feeling the anticipated excitement of what you will be accomplishing and creating?
A person can wish in his/her heart a fruitful and legitimate purpose but if she lacks the proper guidance and preparation she lacks the means for success.
Allow me to help you
Open your Mind – Heart – and Spirit
so that you can be in complete alignment in all aspects of your life. It is time for you to move out of the darkness of not knowing and into the light and peace of sixth sensory wisdom.
The question is who do you trust to help you along the way?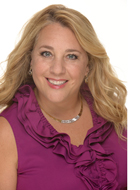 I am Joan Marie Your Intuition Girl Since birth, I have been blessed with my Gifts of Intuition and Mediumship. I can look within your Soul and in two seconds tell you the root of your problem.
I am known internationally as a Business Intuition Expert, Intuition Coach, Intuition Expert, Medium, and Past/Present Life Regression Expert as well as a Lifestyle Coach For Everyday Living. I can see into the soul of your business that is why my expertise as a business intuitive helps business owners, professionals, coaches and entrepreneurs reach their full potential of success. I change lives by helping people like you:
Business professionals
Health Professionals-Doctors and Nurses—Therapists
Entrepreneurs
YOU—Don't you want to know how to see into the situation and know the truth?
This program, "How to Tap into Your Intuitive Powers" is your solution.
This program shipped to you in Special
packaging with the 4 CD's, Poster and
workbook for only $279.99
For Immediate access
The downloadable MP3 Audio collection
and workbook is valued at $124.95
If your job is to create major business deals do you not want to know in advance the thought patterns of your prospective.
If your job is to comfort and share hope for your patients and clients, do you not want to know how to read into some of their beliefs
If you are starting a new business of your own, do you not want to know practical ways to attract more prosperity into your life, work less, generate more money, enjoy more freedom
If you are a single person or a stay-at-home MOM or DAD, do you not want to discover simple yet solid steps to help you manage your day and enhance your life so you can feel fulfilled
How to Tap into Your Intuitive Powers will:
Develop your ability to awaken your intuitive gifts
Grow to a higher and deeper level
Sharpen your awareness of what is happening around you
Have a better grasp of life's challenges
Raise your vibrations to manifest easier (it's just that ability to hear clearly, letting life work for you instead of you working against life.)
Clean and fine-tune the energy fields around your mind, body, and spirit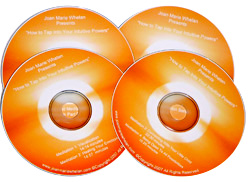 Thank you for sharing your fascinating insight and helping me to reach my "inner light." I believe if everyone seriously considered your meditative and transcending techniques the world would be a more peaceful and happier place because it all begins with "us". I thank our higher powers that there are people like you to teach and share with us the beauty of life. May your soul soar beyond multitudes of energy and truth. -Graciously, Adeline Stevens
As an Intuitive Specialist, I have been able to sort through the numerous "land mines of the mind" that seem to prevent the truth from coming to the surface of one's life and teach you how to tap into your inner power waiting to be released.
From working with your "How to Tap into Your Intuitive Powers" CD's you will gain:
Mastery over your life
You will be able to see things that are about to happen
How to become a leader—become excited and be inspired
You will be able to listen more closely to your Soul and yourself
Experience and depth perception on a moment by moment basis
Identifying with your inner Truth whether in your personal or professional endeavors
Acknowledging the value of balance in your life
With this phenomenal program, you'll receive…

2 lecture CD's in a question and answer format that instructs and shares
2 CD that features 4 separate and distinct meditations to open up your intuitive powers
A workbook that includes numerous tips and releasing techniques to help in removing blockages
BONUS inspirational Poster
Handsome and sturdy kit to store your product and notes for daily use
There's no way to forget what you learn on these CD's because they are with you to enjoy as many times as you wish.
"I came to a better understanding of my purpose on this earth", Amy, New Jersey
"How to Tap into Your Intuitive Powers" leads you into a wonderful journey towards personal and professional transformation.
"I came to your workshop and participated in all the exercises and meditations. I finally get it! Your step by step approach to re-awakening my Intuitive Powers is what I have been looking for. It is the answer to my prayers. The workbook and all your fabulous "Tips" have helped me change my life. Now, I am unstoppable and my income has doubled and I am looking to purchases my first home! …Thanks to you!" Liza, NYC
This program shipped to you in Special
packaging with the 4 CD's, Poster and
workbook for only $279.99
For Immediate access
The downloadable MP3 Audio collection
and workbook is valued at $124.95
"Nothing was going right in my life. I seemed to always be taking the wrong path…left scratching my head in disbelief that I did it again. Then I discover you and your wonderful gifts and products. This entire Lecture and Meditation Series has allowed me to stay focused and on track. The workbook is powerful and a much-needed tool for me. Joan Marie, you have been A Gift to me and I am grateful. I have just received five new clients and a huge retainer check from them for my services and skills. It is amazing to see how my life has changed and improved since I started to listen to your words and do the workbook. Now everything in my life has turned around and I attribute it to this fabulous product: "How to Tap into Your Intuitive Powers." It has shown me how to increase my bottom line. I have been LISTENING!" Rita S–San Clemente, CA
Preparation is half the battle—no matter how insignificant one's task may seem, when you are not focused or clear in your direction, you often miss the mark. Our weaknesses cause the outcome to be less than effective and often worthless.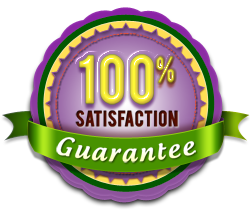 GUARANTEE:
Changing one's life and moving forward does take work. But I can guarantee you that you will reap the benefits when you take the time to do the work that I have outlined within the CD's and workbook. This is why I stand behind my product. I will give you 30 days to examine this product, listen to the powerful meditations and review the workbook. If for any reason – or no reason at all – I want to return the materials before 30 days has passed, I can do so without penalty and without paying a dime.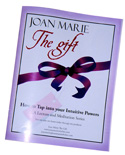 The workbook was designed to take you by the hand and walk you through the process of releasing the old blockages…opening you heart to bring in the NEW so that you will begin to create a NEW way, NEW beliefs, NEW behavior patterns and take the right action to "Tap Into Your Intuitive Powers".
All the strategies and guidance you need to open your intuitive abilities and release the blockages that have been preventing you from

reaching your heart's desire are right here and you can begin today.
It is your birthright to enjoy a life filled with great wealth and abundance. The time is NOW to begin to create the lifestyle that you continually dream about. It can come true.
I believe in you and your power. Open your heart and decide right NOW to let in the new that was meant for you.
See and accept all the possibilities, opportunities and begin to feel more in control of You and Your life and all of Your circumstances. You have nothing to lose and a brand new world to gain.
---
How to Tap into Your Intuitive Powers
CD Package – $279.99
---
How to Tap into Your Intuitive Powers
 MP3 Package – $124.95
---
Copyright 2014 · All Rights Reserved - JoanMarieWhelan.com